Showcase Sponsors
KACY MARTINEZ
3 TIME WORCS PRO WOMAN CHAMPION, SILVER MEDALIST AT XGAMES 2011
---
Dear Sponsors, Fans and Friends!

Our team has been working hard in training and preparing for WORCS,
Endurocross, XGames, GNCC and several other races. This is our 13th year
going and growing. Our riders, sponsors, family, friends and fans mean a great
deal to us in this sport we love so much. We are very grateful for your support
and invite you to follow along with our racing journey in 2014!
Sincerely,
Michael Hurlbert
FMF/ KTM/ RPM Racing Team Maxxis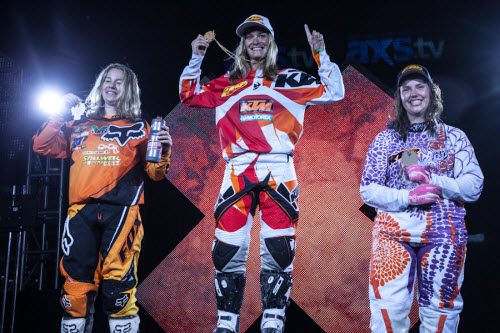 2012 XGames Women Medalists
L. Louise Forsley, C. Maria Forsberg, R. Chantelle Bykerk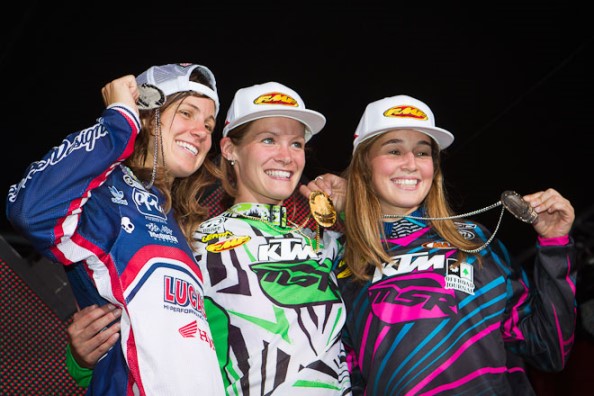 2011 XGames Women Medalists
L. Tara Geiger, C. Maria Forsberg, R. Kacy Martinez
---
---
---
2014
Rd. 1 5/15-18 Austin, TX
---
2014
Rd. 1 5/3 Las Vegas, NV
Rd. 2 6/21 Sacramento, CA
Rd. 3 8/23 Atlanta, GA
Rd. 4 10/4 Denver, CO
Rd. 5 10/11 Salt Lake, UT
Rd. 6 10/18 Everett, WA
Rd. 7 11/15 Boise, ID
Rd. 8 11/22 Ontario, CA
---
2014
Rd. 1 1/17-19 Taft, CA
Rd. 2 2/7-9 Primm, NV
Rd. 3 3/14-16 Lake Havasu, AZ
Rd. 4 4/11-13 Sand Hollow, UT
Rd. 5 5/9-11 TBD
Rd. 6 7/11-13 Pala, CA
Rd. 7 8/1-3 McCleary, WA
Rd. 8 9/12-14 Glen Helen, CA
Rd. 9 10/17-19 Primm, NV
---
2014
Rd. 1 3/9-11 River Ranch, FL
Rd. 2 3/15-16 Washington, GA
Rd. 3 3/29-30 Morganton, NC
Rd. 4 4/12-13 Union, SC
Rd. 5 4/26-27 Park City, KY
Rd. 6 5/10-11 Springville, IN
Rd. 7 5/24-25 Millfield, OH
Rd. 8 6/7-8 Masontown, WV
Rd. 9 6/21-22 Snowshoe, WV
Rd. 10 9/6-7 Unadilla, NY
Rd. 11 9/20-21 Foxburg, PA
Rd. 12 10/4-5 St. Clairsville, OH
Rd. 13 10/25-26 Crawfordsville, IN
, IN
---
Aug. 17 Tennessee Knockout
---